GOUT AND HYPERURICEMIA ARE LINKED TO MULTIPLE COMORBIDITIES AND OUTCOMES
Once considered primarily for its role in the development of gout, emerging evidence is drawing an associative link between hyperuricemia and other disease states, and mortality.1,2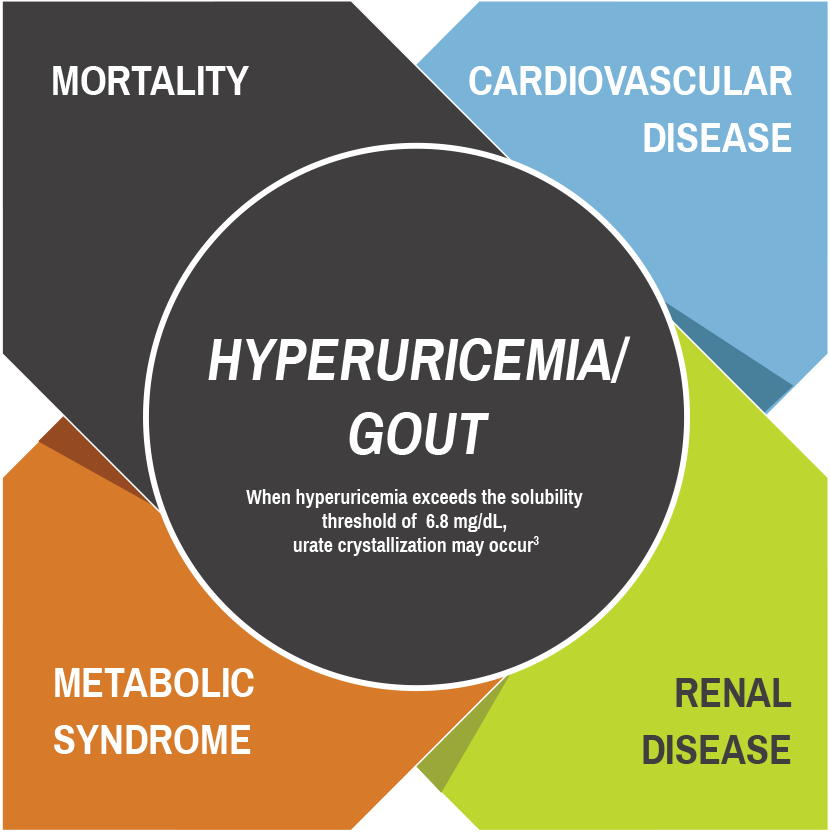 HYPERURICEMIA/GOUT
When hyperuricemia exceeds the solubility threshold of 6.8 mg/dL, urate crystallization may occur3
MORTALITY
Patients with gout <10 years had a 2-fold increased risk of death4*
Patients with gout and baseline tophi had a 3‑fold increased risk of death4*
CARDIOVASCULAR DISEASE
Gout has been shown to be an independent risk factor for CHD, PAD, PVD, heart failure, stroke, hypertension2,5
Uric acid is a marker for coronary heart disease, given its significant association with several risk factors for the disease,6 and is a durable independent marker of risk for the development of hypertension7
RENAL DISEASE
Gout and hyperuricemia are associated with CKD; gout has been shown to be an independent risk factor for the onset and progression of CKD2,8,9
Patients with moderate-to-severe CKD have a 10-fold increase in gout prevalence10†
METABOLIC SYNDROME
Gout has been shown to be an independent risk factor for the development of type 2 diabetes, and associated with all components of the metabolic syndrome2,11
The prevalence of metabolic syndrome increases substantially with increasing levels of sUA, with sUA level positively associated with the development of type 2 diabetes12
CHD, coronary heart disease; PAD, peripheral arterial disease; PVD, peripheral vascular disease; sUA, serum uric acid.
*Gout/hyperuricemia was shown to be an independent risk factor for mortality in people with recent-onset gout in a prospective observational study of 295 people with gout <10 years.4
†Data from Krishnan E. Post hoc, cross sectional analysis of National Health and Nutrition Examination Survey (NHANES) data from 2009–2010 of adults >20 years of age.10
Terkeltaub R, et al. Arthritis Res Ther. 2006;8(suppl 1):S4.

Bardin T, et al. BMC Med. 2017;15:123.

Hyndman D, et al. Curr Rheumatol Rep. 2016;18:34.

Vincent ZL, et al. J Rheumatol. 2017;44:368-373.

Clarson LE, et al. Ann Rheum Dis. 2015;74:642-647.

Coutinho TA, et al. Am J Hypertens. 2007;20:83-89.

Perlstein TS, et al. Hypertension. 2006:48:1031-1036.

Roughley M, et al. Arthritis Res Ther. 2018;20:243.

Stack AG, et al. BMJ Open. 2019;9:e031550.

Krishnan E. PLoS One. 2012;7:e50046.

Rho YH, et al. Ann Rheum Dis. 2016;75:91-95.

Kodama S, et al. Diabetes Care. 2009;32:1737-1742.